OVUM Express Report: ServiceNow for the SME and Mid-Market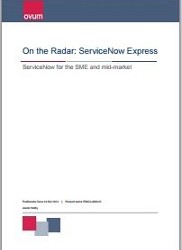 Since 2007, ServiceNow has continued to experience impressive growth, in terms of both its traction in the market and the functionality offered by its IT service automation solution.
Firmly established as one of the leaders in the IT service management (ITSM) space, ServiceNow has introduced Express – a new ITSM offering aimed specifically at the small-to-medium enterprise (SME) and mid-market.
ServiceNow Express will appeal to customers who wish to recognize fast time to value from investment in ITSM technology.
Read this OVUM Analyst Report to learn:
• Benefits that the technology can offer organizations of various sizes
• Key strengths of the ServiceNow Express Solution
• Common capability requirements SMEs expect of such solutions