Top 4 Criteria to Consider When Selecting a Virtualization Platform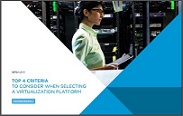 Virtualization platforms have become an essential part of a fast-moving, agile business environment, but not all systems are created equal. How do you choose the right system for your particular environment to avoid shortcomings and unmatched features?
Access this informative white paper to uncover the top four criteria to consider when selecting a virtualization platform. Inside, learn how to choose a system that offers:
• Any app support
• High levels of application performance, uptime, and security
• And much more.