Modernizing the Infrastructure for Dummies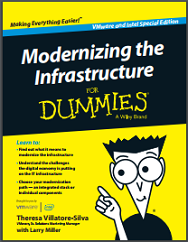 Digital business transformation is reaching new heights and IT strategy is becoming increasingly more important to the success of businesses. Traditional IT infrastructure isn't as readily able to keep up with business demands, resulting in the need to modernize infrastructure. In this iPaper, read about what it means to modernize your infrastructure, learn about challenges the digital economy brings to infrastructure, and choose your modernization path.
VMware and Intel enable IT organizations to realize a digital transformation and deliver IT infrastructure and application services with the speed and agility to support business innovation and growth while optimizing TCO and improving resource utilization.