Modern PC Management for Dummies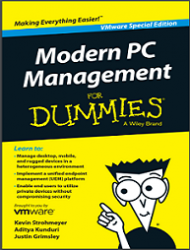 In this book, you see how modern PC management works and how it integrates with and complements traditional PCLM and MDM. We also make the case for all organizations to begin the process of moving to modern PC management, in part because it's clearly the future and in part because some of the key tools for traditional management are already on an end‐of‐life road map.
Don't let the compact size fool you. This book is loaded with information that can help you understand the ins and outs of modern PC management. In plain and simple language, we cover the following:
• The concept of modern PC management
• Key capabilities for UEM
• How to get started with modern management
Along the way, we debunk some myths, like these:
• Modern management is really just MDM.
• Modern management isn't yet ready for prime time.
• Continuing with PCLM is the safe thing to do for the time being.