IT Security From Point Solutions to an Integrated Approach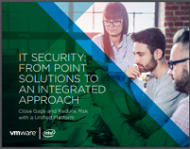 With so many security challenges and requirements to address, it can be hard to know where to start. IT must take into account the different types of protection needed for different users and situations. Take closer look at how an integrated approach to security can close gaps and reduce risk with a unified platform. Download this eBook to learn more.
VMware and Intel transform security by providing comprehensive security measures based in both software and hardware across application infrastructure and endpoints that maximizes visibility, context, and control to secure the interactions between users, applications, and data.
—
VMworld is the premier digital infrastructure event. At VMworld 2018, compute, cloud, mobility, networking, and security innovation all begin with you—the catalysts unlocking value from today's technologies while anticipating a rapidly evolving high-tech future. Register now!