Investing in ITIL-Aligned ITSM Technology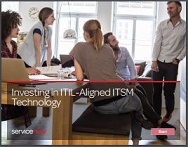 If you are interested in implementing ITIL – the IT service management (ITSM) framework – you need to carefully consider the blend of people, processes, and technology that you use to support an ITIL rollout.
Your company could attempt to adopt ITIL without fit-for-purpose ITSM technology, but the result would leave people "working harder, not smarter"— able to employ a number of ITIL best practices but not necessarily doing so efficiently or effectively.
In this eBook you will learn:
• How a fit-for-purpose ITSM platform helps with ITIL adoption (and IT operations)
• How to justify the investment in a fit-for-purpose ITSM platform
• Understanding your requirements to select the best technologies for supporting your ITIL implementation
If you believe in the benefits of ITIL, this eBook will help you connect the dots between people, processes, and technology to ensure your new ITSM initiative brings major improvements to your IT services.