Guide to Rethinking Your IT Security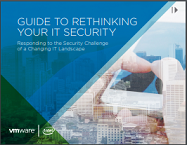 Digital transformation represents a massive opportunity for your business. But with this opportunity comes risk and increased security threats for IT organizations. Read the eBook to learn how by rethinking your approach to IT security, you can answer this modern security challenge.
VMware and Intel transform security by providing comprehensive security measures based in both software and hardware across application infrastructure and endpoints that maximizes visibility, context, and control to secure the interactions between users, applications, and data.