HP Reference Configuration for Microsoft Exchange 2013 on HP ConvergedSystem 700x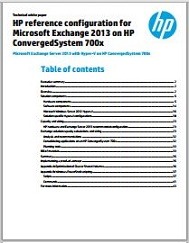 This document identifies the configuration considerations and optimizations for running Microsoft Exchange Server 2013 on the HP ConvergedSystem 700x for Microsoft, which provides highly available, flexible email and collaboration services to an organizational private cloud. The HP ConvergedSystem 700x for Microsoft saves a tremendous amount of time and administrative effort associated with such tasks as system planning, design and equipment procurement. However, organizations new to virtualization technologies, yet wanting to establish a private, public or hybrid cloud infrastructure, need to determine how to best deploy applications to reap the associated benefits and savings. Read this technical whitepaper to learn more.
Intel, the Intel logo, Xeon, and Xeon Inside are trademarks or registered trademarks of Intel Corporation in the U.S. and/or other countries.