Crossing the Legacy ITSM Chasm: A Risk/Benefits Assessment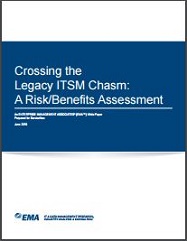 IT Service Management (ITSM) is changing dramatically in scope and value in many IT environments, according to EMA industry research. And yet in some IT organizations, ITSM remains a reactive holdover with declining relevance to both the business and to IT as a whole.
This result may include severe impact on:
IT performance
Business value and relevance
Escalating costs from administrative overhead
Declining IT efficiency due to lack of cohesive processes, automation, governance, and IT service insights
Decreased ITSM efficiency because of rigidity, administrative overhead, and unnecessary consulting expense
Informed by extensive EMA research and two compelling deployment narratives, this report examines what EMA calls "next-generation ITSM" and its contributions toward optimizing changing IT and business requirements. EMA contrasts these advances with the risks of staying with legacy ITSM models and then evaluates and itemizes the risks of "doing nothing" and allowing legacy ITSM to persist.