Analytics-Driven Backup and Recovery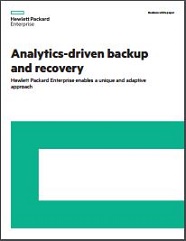 Shifting data center requirements and explosive data growth are forcing today's IT organizations to rethink backup and recovery processes, strategies, and infrastructure. New approaches to deploying IT services such as virtualization and cloud have completely changed how we tackle the challenge of deploying mission-critical applications. In addition, new trends such as mobility and "Bring Your Own Device" (BYOD) and an increasing focus on regulatory compliance have changed how we interact with the data we create.
The reality is that change within today's data center is constant and never-ending. Decisions are made at a point in time and rarely revisited. And the ability to adapt to change is critical to the survival of the IT organization. This means that to reduce risk in meeting service level objectives (SLOs), we require a new approach that supports business resiliency.