9 Ways to Increase Field Productivty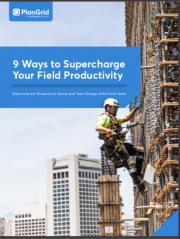 Overcome the Productivity Slump and Take Charge of the Field Team.
The global construction industry has experienced a serious productivity slump. With only a 1% increase in productivity over recent years, it's clear that many factors are acting together to restrain efficiency. From the executives overseeing the contracts to the project manager and engineers on site, everyone has to stay connected and work in sync to achieve measurable gains in productivity. In this ebook you will find nine actionable strategies that address the issues.