5 Ways to Manage Mobility and IoT Risks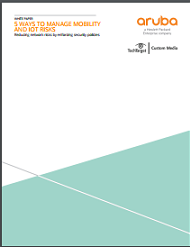 The BYOD security debate is over – organizations recognized long ago that they need to be flexible enough to allow users the freedom to connect multiple devices, whether they're owned by IT or not. This flexibility is made possible by creating conditional access policies to protect data and the network.
Yet policy is only one part of protecting your network against the risks of mobility and IoT.
Check out the TechTarget white paper 5 Ways to Manage Mobility and IOT Risks to learn how to turn your mobile security policies into a practical enforcement mechanism that gives you:
• Visibility into who and what is connected to your network
• Device and policy match capabilities
• Streamlined remediation through triggered workflow