5 Ways to Build Trust With Customers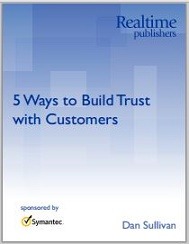 With consumers facing a steady stream of news reports about corporate data breaches, major retailers hacked for credit card information, nation-state–sponsored cyber attacks, and the Heartbleed Bug vulnerability in OpenSSL it is understandable if they are hesitant about online commerce. Fortunately, businesses have an opportunity to build trust with potential customers by demonstrating a clear understanding of customers' privacy concerns and implementing controls to protect customer data. There are key ways businesses can use Secure Sockets Layer (SSL) certificates to build trust with consumers.
There is a clear need for security controls that protect customer data, particularly the need for end-to-end encryption of communications over the Internet. In addition to implementing security controls, it is best to provide clear indications that those controls are in place. SSL technologies form the foundation of five key practices that implement security controls and provide evidence that such controls are active. The five recommended practices are:
• Preventing third-parties from viewing communications
• Mitigating the risk of customer data exposure
• Providing SSL on all Web-accessible servers
• Demonstrating validated identity
• Using SSL certificates from a security leader
Together, these five practices demonstrate a commitment to protect your customers' data and help to establish the trust necessary for online communications and commerce.