Webinar On-demand – Azure vs Amazon AWS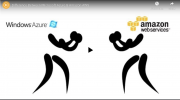 Cloud data centers will process 94% of workloads by 2021. Are you ready?
Pluralsight Author Tim Warner and IT Ops Curriculum Director Don Jones offer a strategic look at today's major cloud offerings, comparing and contrasting AWS and Microsoft Azure in this on-demand webinar.
Discover how each cloud provider stacks up for different business use cases, and how today's companies are making intelligent, tactical investments in the cloud to meet specific outcomes. You'll learn:
• What's working and what isn't for AWS and Azure
• Where the experts are seeing gaps in the current cloud service offerings
• Key solutions you can use to prepare your cloud development teams for success in the coming years