Webinar: Key Requirements for Automating Service Delivery in Hybrid Cloud Environments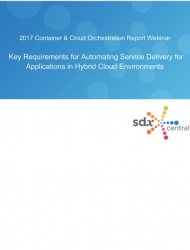 Many organizations are choosing a hybrid approach to managing application delivery, balancing investments in on-premise and private cloud infrastructure with those in the public cloud. This can present challenges for IT to ensure application reliability, performance and security across a heterogeneous cloud topology.
Join SDX Central and Citrix to learn how to:
• Deploy a software-based application delivery proxy that ensures application health and security.
• Automate application network services and resources across multi-cloud topologies.
• Provide visibility and management beyond what your public cloud provider can offer.
• Integrate service discovery in a Kubernetes environment to support new clustered containerized applications.