VMware Horizon® Cloud Service™ on Azure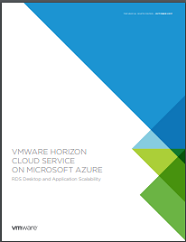 This white paper provides analysis into the achievable scalability and optimal user densities for VMware Horizon Cloud Service™ on Microsoft Azure, along with providing some cost considerations for deployment at scale.
Horizon Cloud Service on Microsoft Azure provides a single platform for delivering virtualized Windows applications and shared desktop sessions from Windows Server instances using Microsoft Remote Desktop Services (RDS) running on Microsoft Azure. With Horizon Cloud, you can publish business critical Windows apps alongside SaaS and mobile apps and desktops in a single digital workspace, easily accessed with single sign-on from any authenticated device or OS.
Download the whitepaper to learn more about running Horizon Cloud on Azure for a fresh reason to consider moving your desktop and application virtualization solution from Citrix to VMware.
—
VMworld is the premier digital infrastructure event. At VMworld 2018, compute, cloud, mobility, networking, and security innovation all begin with you—the catalysts unlocking value from today's technologies while anticipating a rapidly evolving high-tech future. Register now!