Using Web Analytics to Grow Your Business: How Optimizing Your Site Can Translate Into More Sales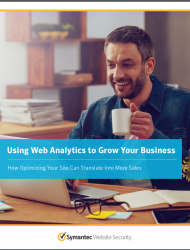 Using analytics tools for your website can help you understand your customer, their activities, and engagement. With these detailed customer behavior insights, you can better target their needs, drive additional traffic to your site — and grow your business.
In this whitepaper, you will learn why website analytics are a must-have, which metrics you should track, and how to leverage analytics and the right security measures to build visitor trust and increase sales.