Three Compelling Reasons for VMware Virtual SAN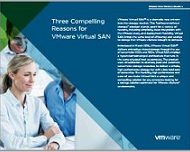 VMware Virtual SAN™ is a dramatic new entrant into the storage market. This "software-defined storage" product stands apart for a variety of reasons, including simplicity, deep integration with the VMware stack, and deployment flexibility. Virtual SAN brings the same level of efficiency and savings to storage that VMware vSphere brought to compute.
Introduced in March 2014, VMware Virtual SAN™ delivers enterprises shared storage through the use of server-side HDDs and SSDs. Virtual SAN employs a hypervisor-converged architecture that runs in the same physical host as compute. The product uses virtualization to abstract, pool and automate server-side storage resources to deliver a simple, high performance storage tier with a low total cost of ownership. The flexibility, high performance and ease of use make Virtual SAN a unique and compelling solution for any enterprise looking for a storage solution optimized for VMware vSphere® environments.