The Business Value of VMware Horizon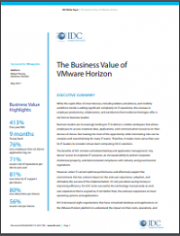 The rapid influx of smart devices and mobility workforce trends is clearly increasing employee productivity, collaboration, and satisfaction in the enterprise. However, maximizing opportunities while minimizing risks can be complex and overwhelming for business leaders and IT departments. Therefore, it makes more sense than ever for IT leaders to consider desktop and application virtualization solutions. The benefits include centralized management, "any device" access to corporate IT resources, and an increased ability to protect corporate intellectual property.
IDC interviewed eight organizations that have virtualized desktops and applications on the VMware Horizon platform to understand the impact on their costs, operations, and businesses. IDC's research projects that the solution will yield an average five-year return on investment of 413%.
Read the white paper to learn more about the results and see why you should consider moving your desktop and application virtualization solution from Citrix to VMware.
—
VMworld is the premier digital infrastructure event. At VMworld 2018, compute, cloud, mobility, networking, and security innovation all begin with you—the catalysts unlocking value from today's technologies while anticipating a rapidly evolving high-tech future. Register now!