TDWI Checklist Report: Emerging Best Practices for Data Lakes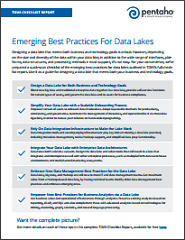 Designing a data lake that meets both business and technology goals is critical, but not easy. From the great size and diversity of data within a data lake, to the need to support a wide range of interfaces, platforms, data structures, and processing methods, too often data lakes turn into a messy data swamp, and fail to deliver promised analytic value.
The TDWI Checklist will help you ensure a successful data lake. It addresses many of the emerging best practices for managing data lakes, including technical data management issues and practical business use cases.
Download the quick-scan checklist and learn more about how to:
• Design a data lake for both business and technology goals
• Simplify your data lake with a scalable onboarding process
• Rely on data integration infrastructure to make the data lake work
• Integrate your data lake with enterprise data architectures
• Embrace new data management best practices for the data lake
• Empower new best practices for business analytics via a data lake