Tablets In The Enterprise: Comparing The Total Cost Of Ownership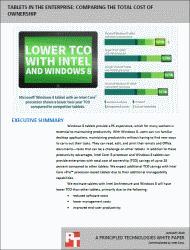 Windows 8 tablets provide a PC experience, for which many workers is essential to maintaining productivity. With Windows 8, users can run familiar desktop applications, maintaining productivity without having to find new ways to carry out their tasks. They can read, edit, and print emails and Office documents—tasks that can be a challenge on other tablets. In addition to these productivity advantages, Intel Core i5 processor and Windows 8 tablets can provide enterprises with total cost of ownership (TCO) savings up to 18 percent compared to other tablets. We expect additional TCO savings with Intel Core vPRO(TM) processor-based tablets due to their additional manageability capabilities.

View
terms of use
for Intel web sites and materials.