Symantec in Education Overview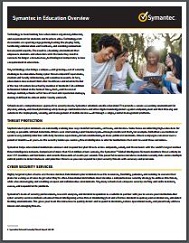 Technology is transforming how education is organized, delivered, and experienced for students and teachers alike. Technology-rich classrooms are spurring engagement, leveling the playing field, facilitating collaboration and feedback, and enabling connection to real-world experts. The result is a learning environment that empowers students and educators with the tools they need to succeed. No longer a nice-to-have, technological competency is now a requirement in education.
Yet, technology also brings a unique—and growing—set of security challenges to education. Rising cyber threats imperil IT operations, student and faculty information, and sensitive research. In fact, education is now ranked third after healthcare and retail in the list of the top 10 sectors breached by number of incidents1. In addition to financial fallout in the form of fines, theft, and the cost of damage control, schools suffer loss of trust and reputation damage, making it difficult to attract stellar faculty and staff.
Schools need a comprehensive approach to security needs. Symantec solutions enable education IT to provide a secure e-Learning environment for physical, virtual, and cloud platforms; safely manage confidential data and other digital content; protect against endpoint, mail and Web threats; and automate the deployment, security, and management of mobile devices—all through a single, central management platform.