Surescripts Moves To Decisively Reduce Risk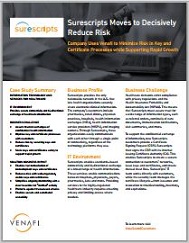 As a provider of IT services to the healthcare industry, Surescripts needs to assure trusted exchanges of confidential health information. To maintain this trust, Surescripts turned to Venafi to improve key and certificate processes with its customers and reduce risk by securing these critical cryptographic assets.
"Now that we have a huge amount of accountability and situational awareness around keys and certificates," says Paul Calatayud, Chief Information Security Officer for Surescripts, "we increased their cypher strength and beefed up our lifecycle policies to further reduce risk from trust-based attacks."
This case study shows how Surescripts relies on Venafi to meet business challenges:
• Integrated Venafi TrustAuthority and TrustForce with its existing multivendor PKI infrastructure
• Reduced risk and increased efficiency in its key and certificate processes
• Secured and automated these processes to support company growth
• Complete the form on the right to download this case study.