Support Twice as Many VMs With a Modern Dell PowerEdge Environment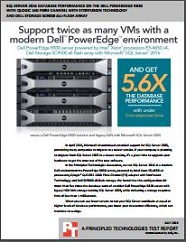 Nothing lasts forever. When software manufacturers discontinue support for aging programs, as Microsoft has done for SQL Server 2005, businesses using these applications must take the step of migrating to new, updated versions. Coupling this upgrade with an upgrade to the hardware on which the applications run can take performance improvements to an even higher level. To learn more, download this report.
Intel Inside®. Powerful Data Center Outside.
Intel and the Intel logo are trademarks of Intel Corporation in the U.S. and/or other countries.