Successful Cloud Migration in 3 Easy Steps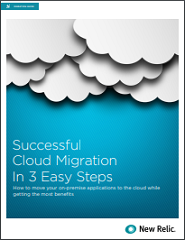 New Relic has helped many organizations modernize their software stack by giving them the visibility, insights, and confidence needed to move their applications to the cloud. Our powerful, real-time, and iterative analytics provide 360-degree visibility into on-premise and cloud-based applications, with perspectives on infrastructure, application, end-user experience (synthetic and real), and business success.
To ensure a successful migration, it's important to stay focused on customer experience and user satisfaction. No matter what the underlying infrastructure, cloud or otherwise, you are responsible for your applications' performance.
In this guide, you'll learn how to:
• Understand which applications/components are good candidates to move to the cloud
• Maintain visibility of application performance and availability before, during, and after the migration
• Tune applications for proper provisioning
• Enforce good security practices
• Manage the increased application and organizational complexity that often comes with a move to the cloud