Run More Applications Without Expanding Your Datacenter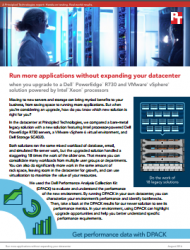 Take your datacenter to the next level with Intel® Xeon® processors E5-2660 v4.
Download this whitepaper to learn the benefits, such as:
• Doing 18x the work in the same amount of Rackspace
• Working with the latest features and functions
• Monitor your unique virtual environments in one place.
It's time to do more in the same amount of space.
Intel Inside®. Powerful Data Center Outside.
Intel, the Intel logo, Xeon, and Xeon Inside are trademarks or registered trademarks of Intel Corporation in the U.S. and/or other countries.