Quantifying the Business Case for the IoT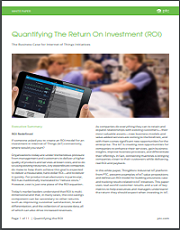 Companies today are under tremendous pressure to deliver a higher quality of products and services at lower costs. Any expenditure companies do make is expected to deliver a measurable ROI. For product manufacturers in particular, ROI has traditionally translated to "reduce costs."
However, cost is just one piece of the ROI equation. The IoT is creating new opportunities for companies to enhance their services, gain business insights, improve processes, and differentiate their offerings. In this ebook, you'll learn;
• Metrics for integrating smart, connected product data,
• Translating product data into value,
• Connecting data and business process efficiency,
• Differentiated products that change the customer experience.
Get your copy of Quantifying The Return On Investment: The Business Case for Internet of Things Initiatives.