Modernizing and Extending Your Virtual Desktop and Application Management Platform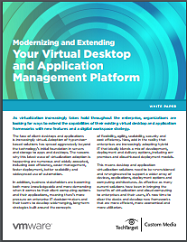 As virtualization increasingly takes hold throughout the enterprise, organizations are looking for ways to extend the capabilities of their existing virtual desktop and application frameworks with new features and a digital workspace strategy.
In this Tech Target whitepaper, you will learn:
– Common customer pain points and business implications in desktop and application virtualization
– What to look for in desktop and application virtualization solutions
– The many benefits and advantages of VMware Horizon and Workspace ONE
—
VMworld is the premier digital infrastructure event. At VMworld 2018, compute, cloud, mobility, networking, and security innovation all begin with you—the catalysts unlocking value from today's technologies while anticipating a rapidly evolving high-tech future. Register now!