Modernize Your .NET Workloads on AWS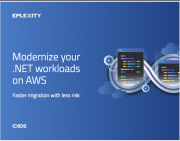 If you are still managing an on-premises data center, the end of support for Windows Server 2008 and SQL Server 2008 provides a great opportunity to rethink your approach to technology investments. Legacy applications are expensive to manage and maintain. Over time, the value they bring to the business diminishes. Without Microsoft support you are at greater security risk, and you may be out of compliance with government privacy and data regulations.
It's important to consider your options when facing end-of-support deadlines. What makes the most sense in the long-term? What are the pros and cons of your alternatives? In this eBook, you'll see the options for Windows Server 2008 and SQL Server 2008 end-of-support, and learn how modernization with AWS provides an unparalleled depth and breadth of services, enabling faster innovation so you can better compete in today's technology driven economy.