Why Micro-Segmentation Matters Now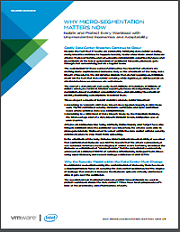 Due to the increase in security breaches over the past few years, you know that legacy approaches to data center security are not adequate. Micro-segmentation could be the answer – but what does it really mean and how do you do it? Read this solution overview to find out.
VMware and Intel enable IT organizations to realize a digital transformation and deliver IT infrastructure and application services with the speed and agility to support business innovation and growth while optimizing TCO and improving resource utilization.