Why Micro-segmentation Matters Now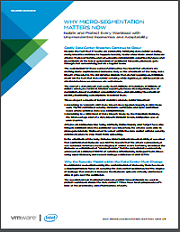 Due to the increase in security breaches over the past few years, you know that legacy approaches to data center security are not adequate. Micro-segmentation could be the answer – but what does it really mean and how do you do it? Read this solution overview to find out.
Enable networking and security at the speed of software while building data center agility with network virtualization on industry standard Intel® Xeon® processor based server architecture.