An Introduction to the Security Advantages of Micro-Segmentation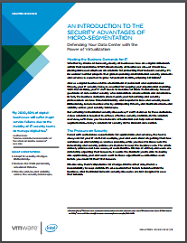 The business demands placed upon your networking and security professionals are now threefold:
• Identify and respond to risks and security needs immediately
• Reduce business risk by anticipating threats
• Maintain end-to-end visibility across your security landscape.
Download this solution overview and take a closer look at how implementing micro-segmentation empowers you to solve the security dilemma in your data center.
VMware and Intel enable IT organizations to realize a digital transformation and deliver IT infrastructure and application services with the speed and agility to support business innovation and growth while optimizing TCO and improving resource utilization.