7 Reasons Why Micro-segmentation is Powerful to Have and Painless to Add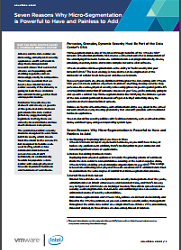 This brief explains why it's time to take the next step toward the software-defined data center, and apply network virtualization and micro-segmentation to the network. It empowers infrastructure architects to react quickly to prevent breaches.
Enable networking and security at the speed of software while building data center agility with network virtualization on industry standard Intel® Xeon® processor based server architecture.