7 Reasons Why Micro-Segmentation is Powerful to Have and Painless to Add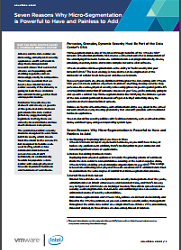 This brief explains why it's time to take the next step toward the software-defined data center, and apply network virtualization and micro-segmentation to the network. It empowers infrastructure architects to react quickly to prevent breaches.
VMware and Intel enable IT organizations to realize a digital transformation and deliver IT infrastructure and application services with the speed and agility to support business innovation and growth while optimizing TCO and improving resource utilization.