3 Key Steps to Transforming IT Security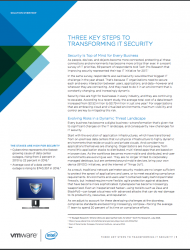 Security is consistently growing more important, and many IT teams are recognizing it as both a priority and a challenge. In addition, IT teams are under increasing pressure to protect the business from emerging new threats. For organizations that are embracing cloud and virtualized environments, three common-sense steps are proving to be key for providing the visibility and control needed to maximize security across modern IT environments. Learn more in this solution overview, Three Key Steps to Transforming IT Security.
VMware and Intel transform security by providing comprehensive security measures based in both software and hardware across application infrastructure and endpoints that maximizes visibility, context, and control to secure the interactions between users, applications, and data.