IDC Whitepaper: How an HCI Platform Ecosystem Drives Business Value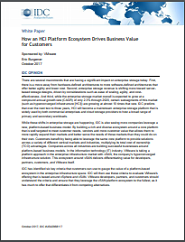 There are several macrotrends that are having a significant impact on enterprise storage today. IDC predicts that over the next two to three years, HCI will become a mainstream enterprise storage platform that is widely used by both commercial enterprises and cloud storage providers to host a broad range of primary and secondary workloads. See what IDC has identified as the six key criteria that customers can use to gauge the value of a platform-based ecosystem in the enterprise infrastructure space.
VMware and Intel enable IT organizations to realize a digital transformation and deliver IT infrastructure and application services with the speed and agility to support business innovation and growth while optimizing TCO and improving resource utilization.