How to Migrate Citrix XenApp to VMware Horizon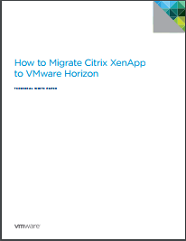 Whether your goal is to migrate an existing XenApp infrastructure to Horizon, replace it with a new system, or simply integrate legacy Citrix infrastructure with your Horizon virtual desktop deployment, VMware has the innovative products and technology you need.
Download this white paper to access valuable guidance for planning and undertaking a migration from Citrix XenApp to VMware Horizon through four detailed approaches, including the major steps required for their implementation.
—
VMworld is the premier digital infrastructure event. At VMworld 2018, compute, cloud, mobility, networking, and security innovation all begin with you—the catalysts unlocking value from today's technologies while anticipating a rapidly evolving high-tech future. Register now!