How NSX Automates Security Workflows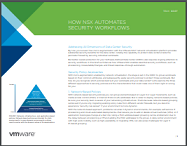 With micro-segmentation enabled by network virtualization, the stage is set in the SDDC to group workloads based on their common attributes, and subsequently apply security policies to protect those workloads. But how do you recognize which policies best suit your workloads and your data center?
In this brief we'll discuss the three different approaches to security policies and ho w VMware NSX enables essential security workflows—such as provisioning, moves/adds/changes, and threat response—through automation.
—
VMworld is the premier digital infrastructure event. At VMworld 2018, compute, cloud, mobility, networking, and security innovation all begin with you—the catalysts unlocking value from today's technologies while anticipating a rapidly evolving high-tech future. Register now!