Harnessing The Cloud At U.S. Federal And Defense Organizations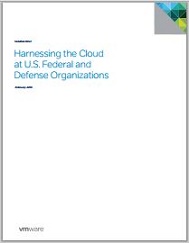 Regulatory mandates and ongoing fiscal austerity are driving federal and defense organizations to explore options for extending their virtual infrastructures to the cloud. VMware vCloud® Government Service by Carpathia™ is an excellent option to ease the transition to the cloud. It provides the elasticity and scalability of the cloud using VMware infrastructure—with minimal disruption to IT environments. VMware has partnered with managed service provider Carpathia to deliver this solution.
Built on VMware vSphere® platform, vCloud Government Service enables federal personnel to access all of their IT resources from the cloud with the same tools, processes, and skills they already use. Organizations making their first forays into the cloud are often concerned about risks relating to security, compliance, ownership, costs, and interoperability. This compatibility with their existing infrastructure provides welcome relief to federal government employees.