Going Cloud-first? Start by Rethinking Your Approaches to Networking and Security An eBook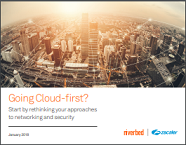 Many organizations are adopting a cloud-first mindset to power their digital transformation strategies and to better support evolving business demands. But supporting cloud deployments with legacy infrastructure introduces a multitude of network security and management challenges.
Supporting cloud and digital transformation strategies requires a next-gen architecture where cloud security and cloud networking solutions work together.
Read this eBook to explore:
• How to eliminate the cost and complexity of managing security appliances at every business location
• How to simplify the design and management of enterprise networks for cloud-era operational agility
• Why Riverbed and Zscaler offer the industry's most complete and seamless cloud networking and security solution