Futuriom SD-WAN Growth Outlook Report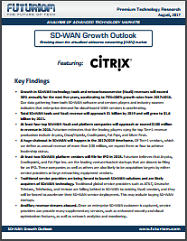 Are you curious about why everybody in networking is talking about SD-WAN? People are saying that it is the most promising emerging technology to develop in the networking business since MPLS, enabling more efficient connectivity from the branch office to the data center and to the cloud.
Futuriom has released a detailed report on the SD-WAN market, including a market forecast, profiles of a dozen companies, and their thoughts on which companies will be the one to pick. Learn why they have recognized Citrix as a leader in SD-WAN technology.

Download the Futuriom SD-WAN Growth Outlook Report to learn about:
• Growth in SD-WAN technology tools and network-as-a-service
• The SD-WAN NaaS and platform companies that will rise to the top in 2018
• The predicted shakeout in SD-WAN that could happen between 2017 and 2019
• How traditional service providers are launching SD-WAN solutions