Four Ways VMware Workspace ONE™ Beats Citrix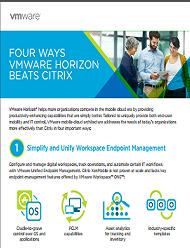 Download this infographic to learn how VMware Workspace™ ONE™ helps more organizations compete in the mobile cloud era by providing productivity-enhancing capabilities that are simply better. Tailored to uniquely provide both end-user mobility and IT control, VMware mobile-cloud architecture addresses the needs of today's organizations more effectively than Citrix.
—
VMworld is the premier digital infrastructure event. At VMworld 2018, compute, cloud, mobility, networking, and security innovation all begin with you—the catalysts unlocking value from today's technologies while anticipating a rapidly evolving high-tech future. Register now!