File Server Performance on the Intel Processor-Powered Dell PowerEdge R730xd with Hybrid Storage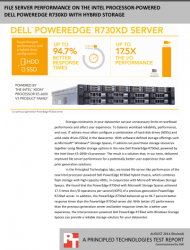 Storage constraints in your data center can put unnecessary limits on workload performance and affect user experience. To balance workload reliability, performance, and cost, IT admins must often configure a combination of hard-disk drives (HDDs) and solid-state drives (SSDs) in the data center.
This report highlights the file server-like performance test results of the new Intel processor-powered Dell PowerEdge server platform, which combines flash storage with high capacity HDDs.
Read on and take a look at how this platform performed when delivering IOPS and response times when compared to previous servers.
Intel Inside®. Powerful Data Center Outside.
Intel and the Intel logo are trademarks of Intel Corporation in the U.S. and/or other countries.