ESG Paper: The Impact of Poor SaaS Performance on Globally Distributed Enterprises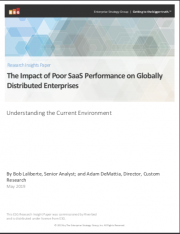 In March, 2019, ESG (Enterprise Strategy Group) surveyed 200 IT leaders responsible for SaaS applications in distributed and global enterprises to better understand the impact of performance on workforce productivity. In the paper, ESG reviews their findings.
Read this white paper to learn more about the current enterprise environment as it relates to SaaS applications.
You'll gain insight into:
• The rate of SaaS adoption in the enterprise
• Why SaaS application performance is critical for the success of distributed and international workforces
• The current experience of SaaS performance through the eyes of your peers