Ensuring Ease Of Use With SSL Certificates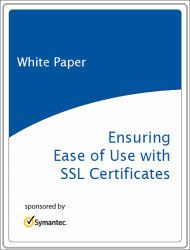 Businesses of all sizes face a constantly evolving range of security threats, from sophisticated malware and targeted phishing scams to data leaks and loss of trust with customers. These threats can be especially challenging for small and midsize businesses who typically have limited staff and resources to address security concerns.
To support encryption and device authentication, businesses around the globe use Secure Sockets Layer (SSL) certificates in a wide variety of applications. Although SSL certificates are ubiquitous and their core structure is the same, they are not all equal—or equally easy to manage. It is important to understand the role of SSL certificates in securing business information and resources in order to evaluate SSL certificate options. This understanding will enable the consideration of key usability features to ensure the purchase of a solution that provides streamlined SSL certificate management.