Enabling Cybersecurity in the Age of Digital Transformation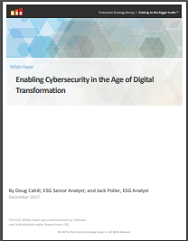 Are you ready for a more holistic approach to cybersecurity? The various aspects of digital transformation are fundamentally changing enterprise IT, enabling greater business agility, but also creating a new set of cybersecurity challenges. This white paper explores the impact of digital transformation on cybersecurity processes and technologies and offers a reference architecture for securing the foundational aspects of modern, enterprise IT.
—
VMworld is the premier digital infrastructure event. At VMworld 2018, compute, cloud, mobility, networking, and security innovation all begin with you—the catalysts unlocking value from today's technologies while anticipating a rapidly evolving high-tech future. Register now!