Discover the TCO Savings of Ruckus Cloud Wi-Fi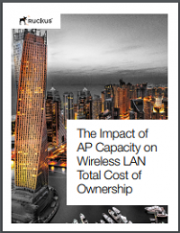 As Wi-Fi demands grow, how do you keep control of growing WLAN costs? Ruckus access points (APs), with patented RF technologies, have been proven to support more devices and provide better coverage than competitive solutions.
This white paper examines how Ruckus Cloud Wi-Fi delivers more usable capacity per AP, which means you need buy fewer APs. You also save on management subscriptions, cabling, installation, switch ports, power and other overhead costs.