DevSecOps: The Key to Securing Your Cloud-Native Applications—Fast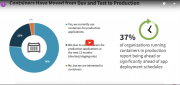 As you transition your workloads to container, Kubernetes®, and serverless environments, a unified development and deployment approach requires increased involvement of the cybersecurity team.
Listen as Doug Cahill, Senior Analyst and Group Director, ESG and David Clement, Product Marketing Manager Hybrid Cloud, Trend Micro, discuss how DevSecOps is being used to artfully secure cloud-native applications. It'll be music to your ears.
You'll learn about:
• Influencing security across technology stacks and cloud-native applications
• Gaining organizational alignment for cloud-native security
• Implementing secure DevOps along the life cycle continuum
• Securing cloud-native applications and a new converged approach