Deploying Business Ultrabook™ Devices In the Enterprise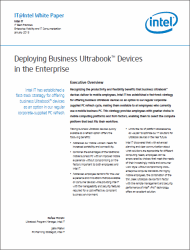 Recognizing the productivity and flexibility benefits that business Ultrabook™ devices deliver to mobile employees, Intel IT has established a fast-track strategy for offering business Ultrabook devices as an option in our regular corporate-supplied PC refresh cycle, making them available to all employees who currently use a mobile business PC. This strategy provides employees with greater choice in mobile computing platforms and form factors, enabling them to select the compute platform that best fits their workflow.

View
terms of use
for Intel web sites and materials.