Advanced Networking and Security in a Cloud-Native World With VMware NSX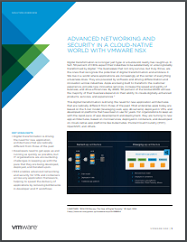 Digital transformation is no longer just hype or a buzzword; reality has caught up. In fact, 50 percent of CEOs expect their industries to be substantially or unrecognizably transformed by digital. The businesses that not only survive, but truly thrive, are the ones that recognize the potential of digital transformation and embrace it. This digital transformation is driving the need for new application architectures that are radically different from those of the past. Download this asset to learn more.
—
VMworld is the premier digital infrastructure event. At VMworld 2018, compute, cloud, mobility, networking, and security innovation all begin with you—the catalysts unlocking value from today's technologies while anticipating a rapidly evolving high-tech future. Register now!