A Modern Data Center is Essential for the Digital Economy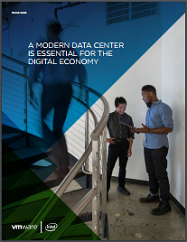 The digital economy is putting pressures on IT to transform the data center to meet business demands for faster delivery of IT services. See how the boundaries have expanded beyond the physical to include virtual and cloud, making it imperative for IT to become more agile, efficient, and cost-effective in delivering IT services.
VMware and Intel enable IT organizations to realize a digital transformation and deliver IT infrastructure and application services with the speed and agility to support business innovation and growth while optimizing TCO and improving resource utilization.