A Guide to Better TCO and Agility With Hyper-Converged Infrastructure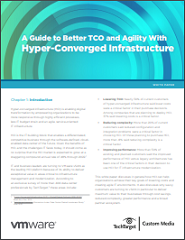 Hyper-converged infrastructure is spearheading the success of the digital transformation by enabling faster response rates in organizations. The market for HCI is growing rapidly, and VMware vSAN is at the forefront. Through lowering TCO, reducing complexity, and improving performance, vSAN is delivering value to areas critical to infrastructure management and modernization. This whitepaper gives an overview of the benefits of HCI and how it can help companies achieve their goals through lowering costs and creating agile IT environments.
VMware and Intel enable IT organizations to realize a digital transformation and deliver IT infrastructure and application services with the speed and agility to support business innovation and growth while optimizing TCO and improving resource utilization.